According to The Independent, the President of the United States, Donald Trump, is considering setting the upcoming Group of Seven (G7) summit in one of his private golf resorts, in Miami. The scheduling of the annual G7 summits dictates that, in 2020, it's the United States turn to host it. Apparently, Trump told reporters he as considering the Trump National Doral Miami Golf Resort as the place for the summit. The G7 is comprised of the United Kingdom, the United States, France, Germany, Italy, Japan and Canada.
An opportunity to play golf?
Since 1976, the second year of the G7 annual summits, the conference is held between May and July. This year's meeting in August goes outside of the norm. Anyway, it's pretty sure that the meeting will fall during Trump's first mandate, before the presidential election of November.
The President told the media that Doral Miami Golf Resort is "right next to the airport", it's got great acreage, many hundreds of acres," it's "a great place" and "people are liking it".
People say that golf is a wonderful way to do business. Successful people choose it as a sport to practise. The gameplay allows people to chat between hits, and while strolling around the course. Calmly, under the sun. All this is true. Maybe this could contribute to a lighter atmosphere between the seven heads of state. However, b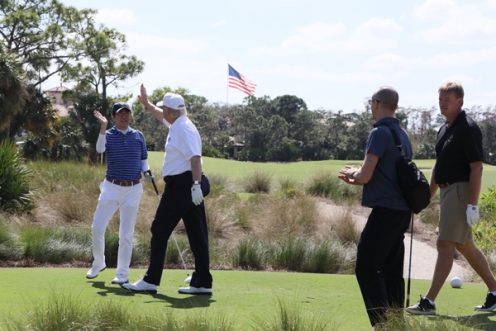 ig issues are dividing the G7 leaders, and golf alone may not be sufficient to solve the problem.
G7 divisions
The G7 meeting in Biarritz, France, was hardly conclusive. There were deep divisions among President Trump and some of his allies, notably French President Emmanuel Macron, regarding several aspects. The Amazon fires became a matter of international debating. While the G7 offered $20 million to help the Brazilian government regarding the matter, Trump disagreed with it. Later, National Security Council spokesman Garrett Marquis said that coordinating with Brazil would be the best way to tackle the problem.
None of the current day problems debated got any significant convergence from the bloc. President Trump did not care to coordinate his efforts regarding the ongoing trade war with China with his allies. The mixed comments, usual communication policy and style from Trump, signalled that the trade war would continue, but he is always ready to negotiate – he specifically mentioned that he is maintaining contacts with Beijing.
The arrival of a government representative from Iran to discuss the nuclear deal was apparently pre-approved by Trump – and surely was, otherwise he could have left the meeting altogether. But nothing conclusive came from it.
Let's hope that the golf courses of Miami could inspire the G7 leaders to converge in pivotal matters, next year.